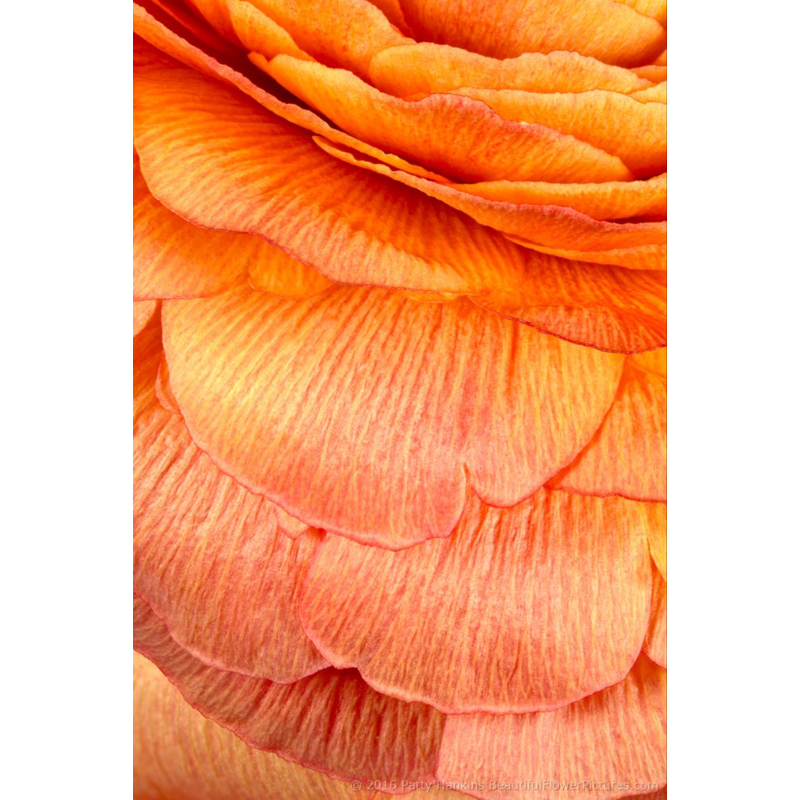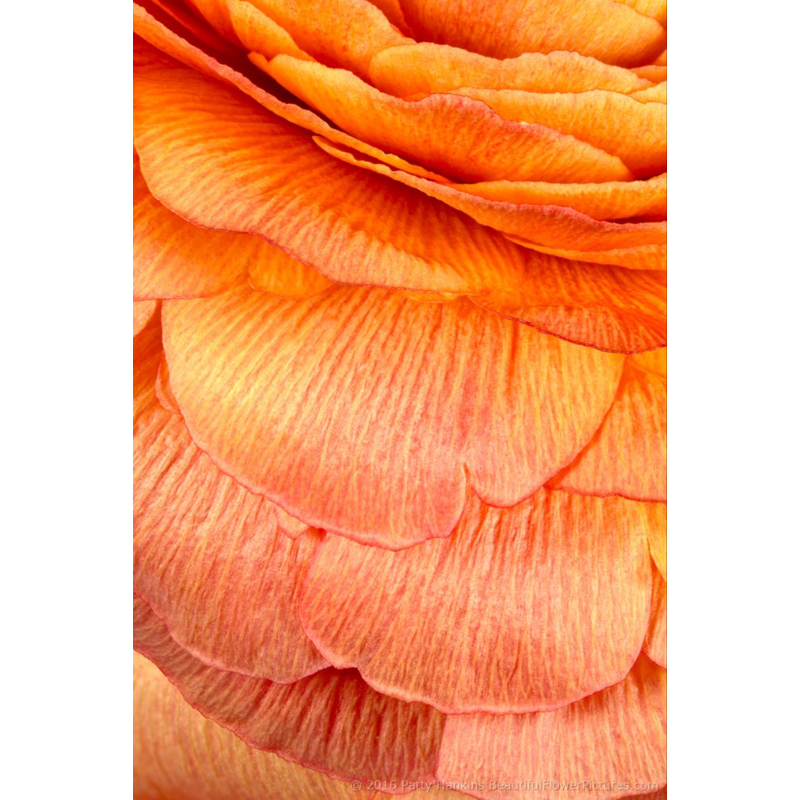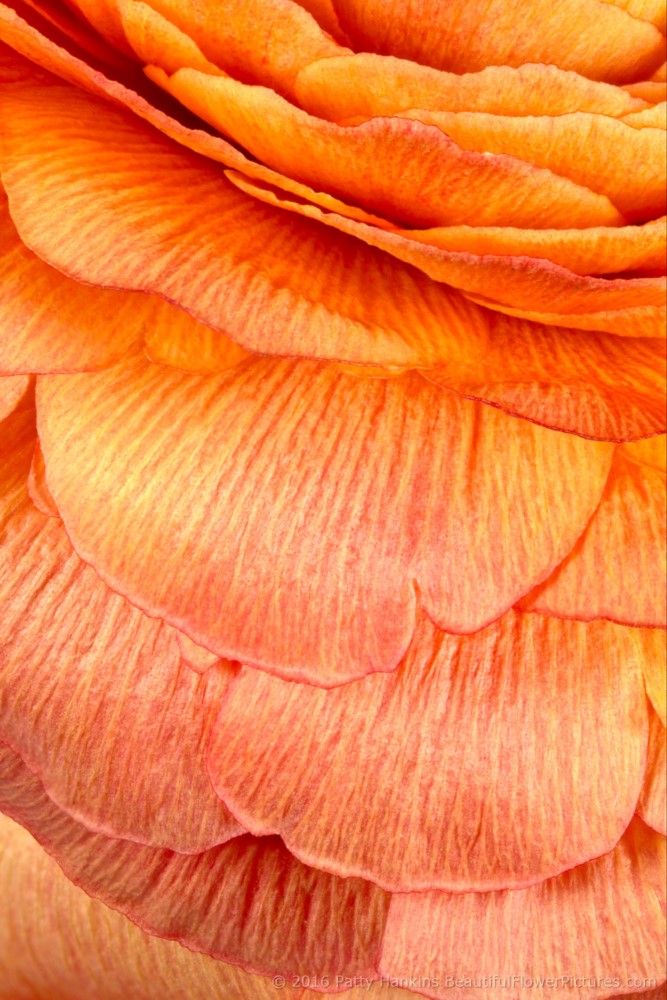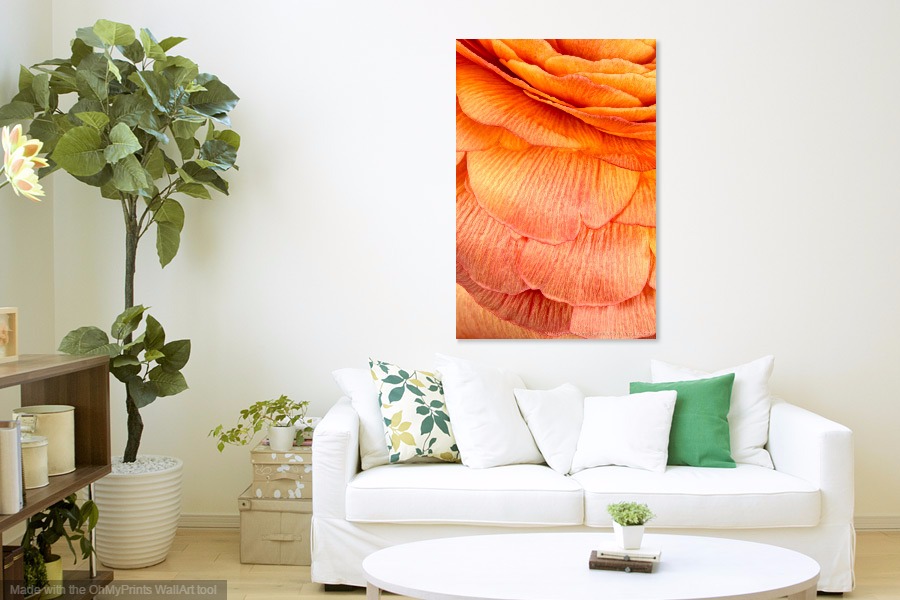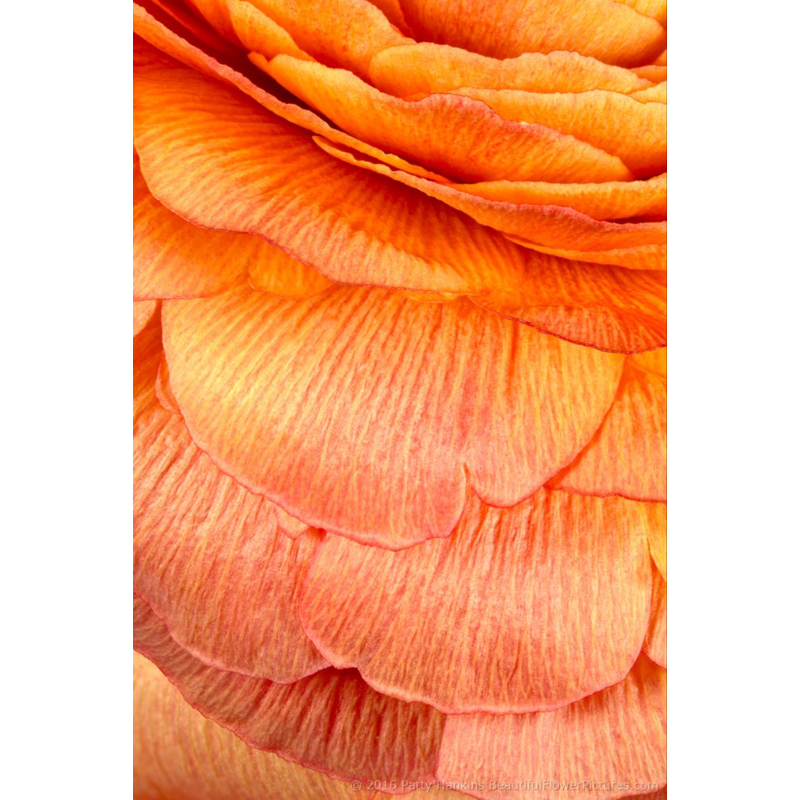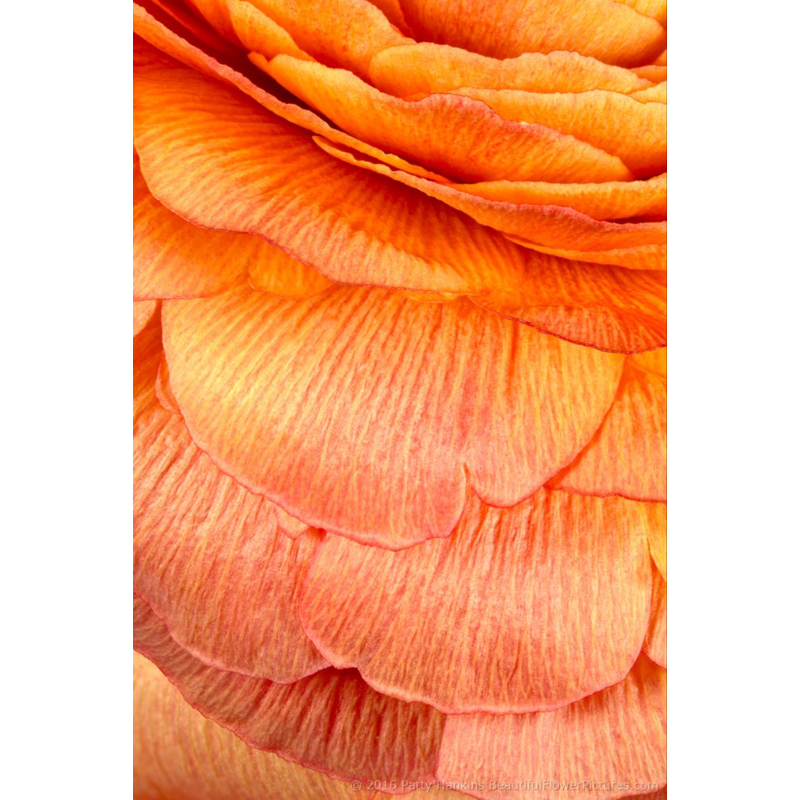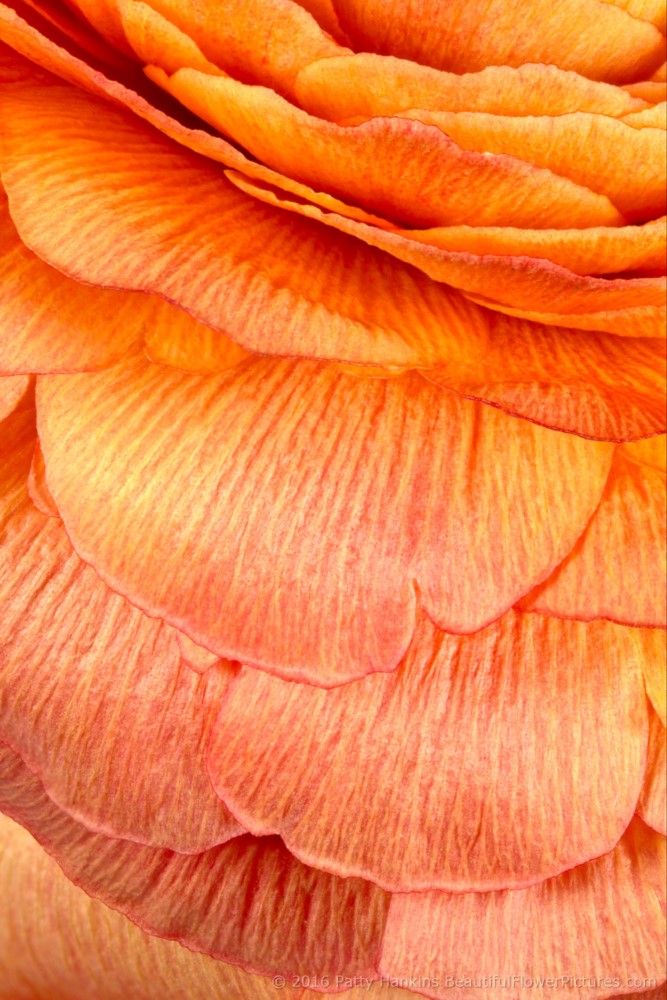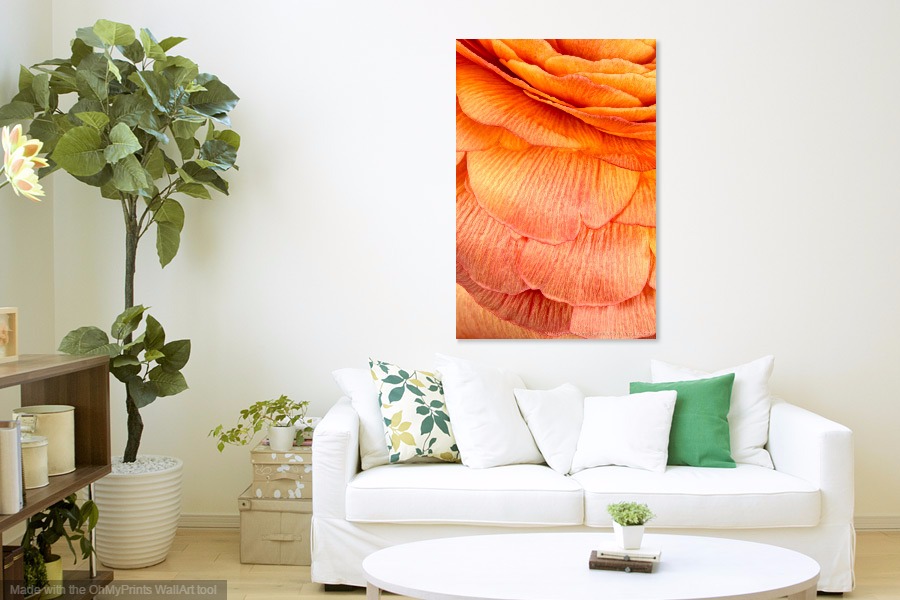 A one-time price of
$54.00
will be added to your order.
Description
Specifications
So by now, you've probably figured out I really like to photograph ranunculus flowers in my studio. I'm able to capture all sorts of details in the studio that I'm not able to capture in a garden. In part this is because the ranunculus flowers are very delicate – so I rarely find them in good shape in gardens. The other reason I'm able to get photos I'm much happier with in the studio is that I can control the lighting and exactly where the flowers are in relation to my lens.
While photographing some orange ranunculus flowers not long ago I tried to create some photos of the petals that were almost abstract images. In many ways – they are all about the colors in petals and the textures – than about the flowers themselves.
Traditional Matted Photographs
All of my photographs are available as traditionally matted images. I find myself drawn back to the classic look of a photograph with a white mat.
I print my matted photographs on an Epson 3880 professional photo printer using Epson archival paper and Epson pigmented inks. Displayed under glass, these photographs have an estimated print life of at least 80 years. These archival photographs are covered by my fade free guarantee.
My photographs are matted using acid-free mats and backing boards. Photographs matted to 11X14" and 12X12" are presented in a single white mat. Photographs matted to 10X20" and 16X20" are presented in a double white mat. All of my mats are cut to fit standard sized frames available online and at local art & craft stores.
Most photographs can be order in larger sizes. Please contact me about custom sizes of matted photographs.
Gallery-Wrapped Canvas Photographs
All of my photographs are also available as gallery-wrapped canvases. The canvas preserves all the fine details of the photograph while giving them a sense of three dimensions.
I print my gallery-wrapped canvases on an Epson 9800 professional photo printer using Epson archival canvas and Epson pigmented inks. A protective spray is added to each photograph giving it some added water resistance and UV protection. Current estimates are that this combination of canvas, ink and spray should last for at least 70 years. These archival photographs are covered by my fade free guarantee.
All gallery-wrapped canvases are shipped ready-to-hang.
Some photographs can be ordered in larger sizes of gallery-wrapped canvases. Please contact me about custom sizes of canvases.
Shipping
Customers with U.S. shipping addresses
Photographs usually ship within 5 days of an order being placed. I will let you know if there will be a delay in shipping your photo, usually because I am out of town and unable to ship.
Packages will be shipped by either USPS First Class or Priority Mail or FedEx Ground Service.
Shipping/Handling fees for customers with U.S. addresses are
up to $ 50.00 s/h $ 10
50.01 – 100 s/h $ 15
100.01 and up s/h $ 25
There are no shipping/handling fees for products delivered electronically.
Customers with mailing addresses outside the United States
Please contact me about shipping to destinations outside the United States. Shipping fees will be determined based on the size of the package and the destination.
Sales Tax
Sales tax will be charged on packages shipped to Maryland, Virginia and Pennsylvania.
Guarantees
I want you to be happy with your artwork purchased from BeautifulFlowerPictures.com I look forward to helping you select photographs that will enhance your home or office, or make the perfect gift.
Unconditional Happiness Guarantee
What is most important to me is for you to be completely satisfied with the photographs you purchase from me. Your purchase comes with a 100% one-year money-back guarantee. If at anytime in the first year after you purchase artwork from me, you decide that it just isn't perfect, you may return it to me in original condition and I will be happy to exchange it or refund 100% of the purchase price (excluding s/h).
Fade Free Guarantee
I guarantee your photograph will not fade for at least 60 years. If it does fade, contact me and I will replace it.